International Champion, Israel Grand Champion, Veteran Champion, Champion, Junior Champion, Tel Aviv Winner 2013, Dog of the Year 2017 in Breed.
Sunshine Flowers Alstroemeria Spark
"Alyssa"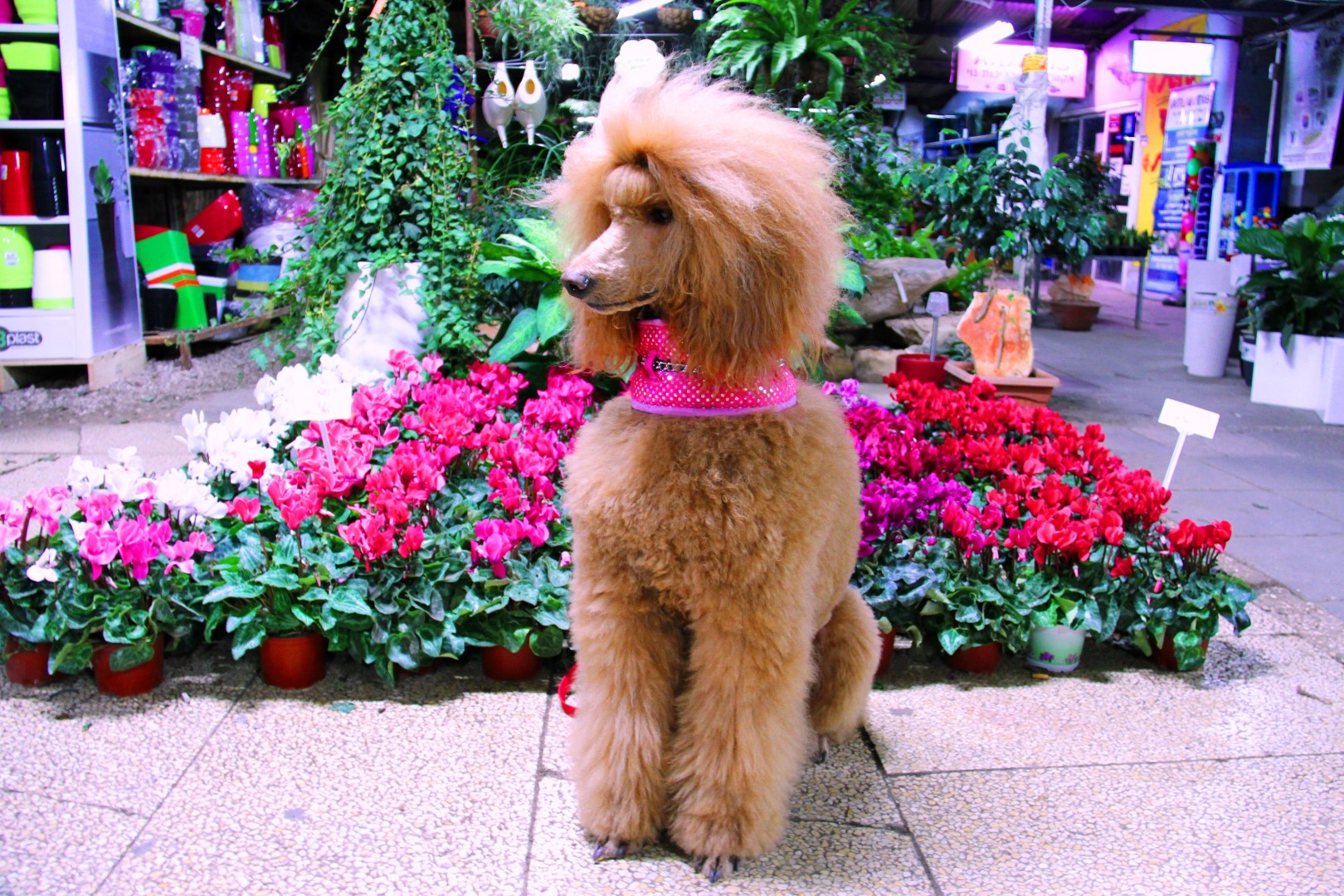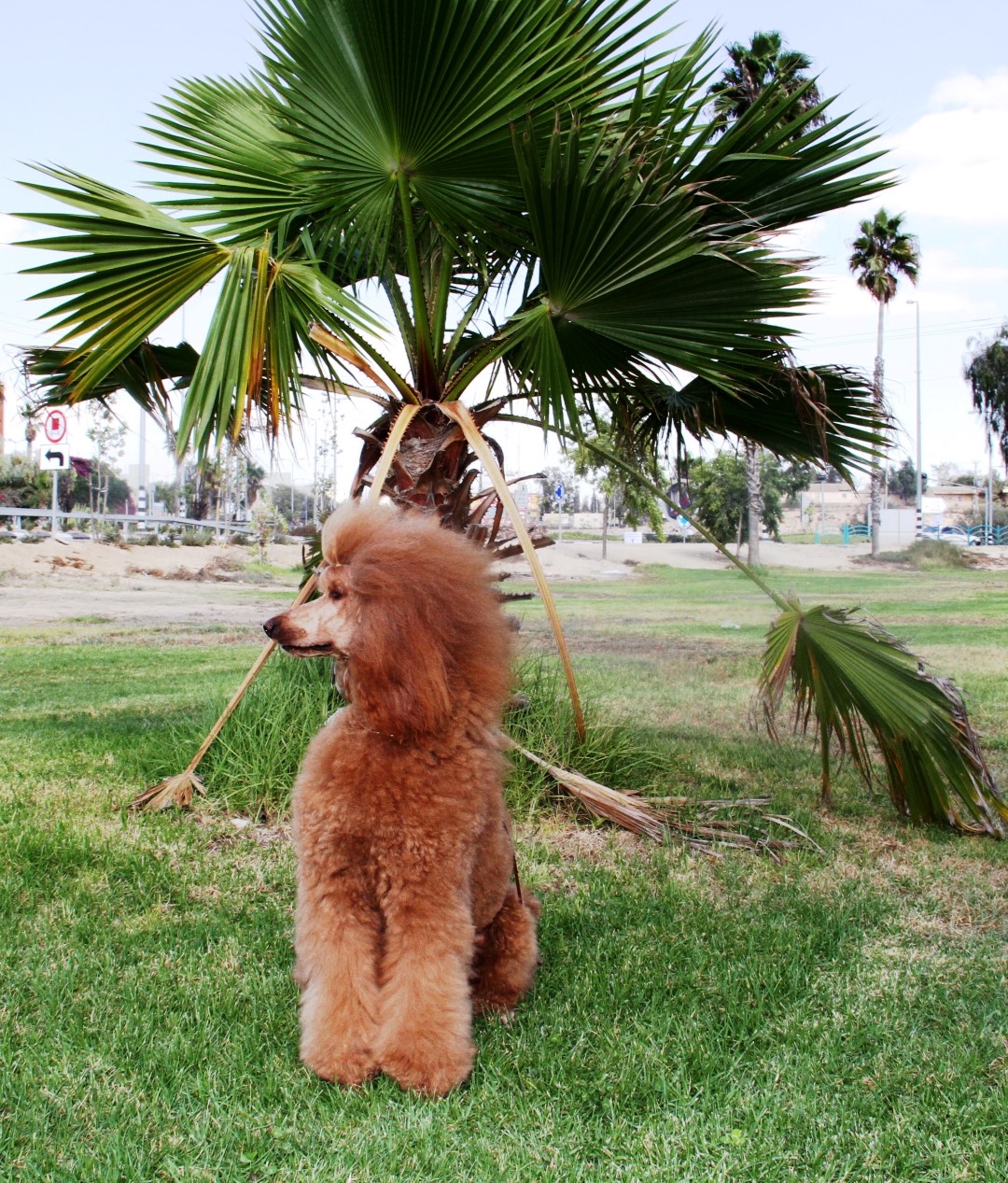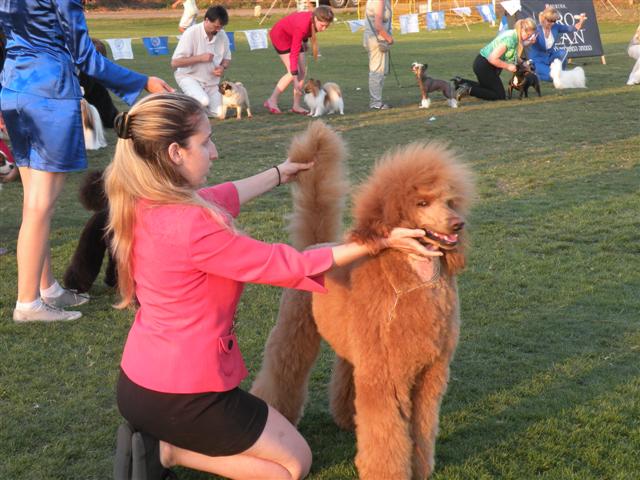 Alyssa is our very special girl. Alyssa is the First Red Standard Poodle in Israel, who completed all Championships - Junior, Israel, Grand Champion and now International Champion. She has stunning Red color and very nice conformation. She is the darkest in the litter. It was hard to believe that the Red puppy was born from two Apricot parents, but with time it became obvious. Alyssa and Alya are two friends, both of them are running and jumping amazingly, organizing "races" when we go out all together.
Alyssa was called after the name of the gorgeous flower Alstroemeria - Princess of Lilies.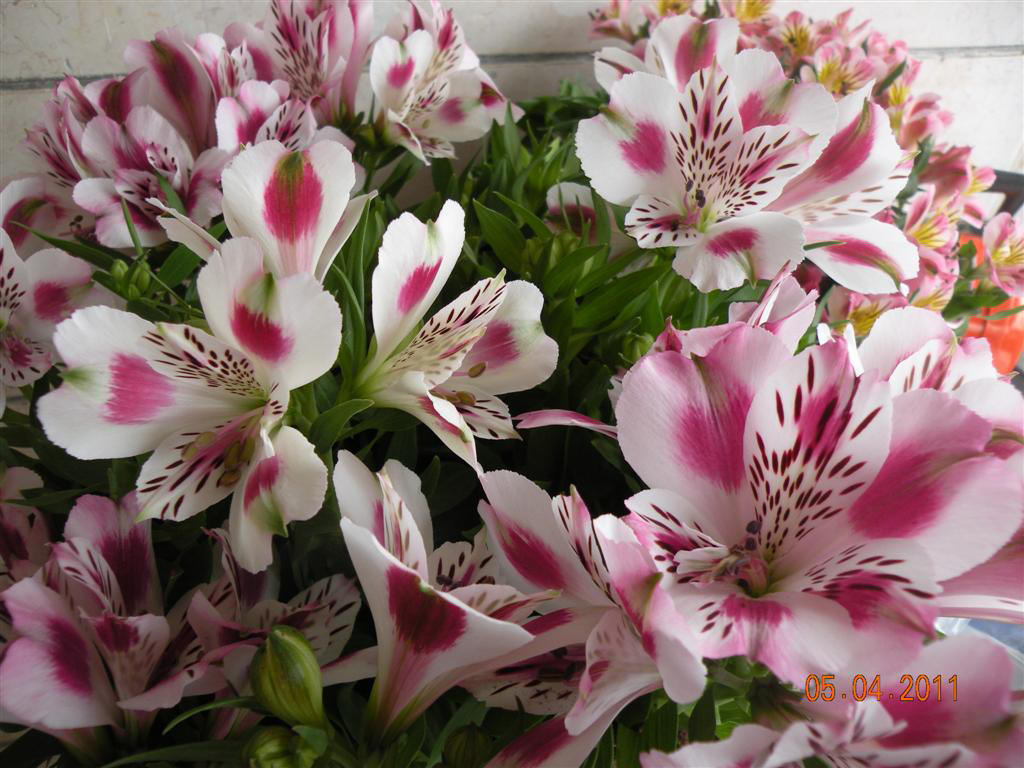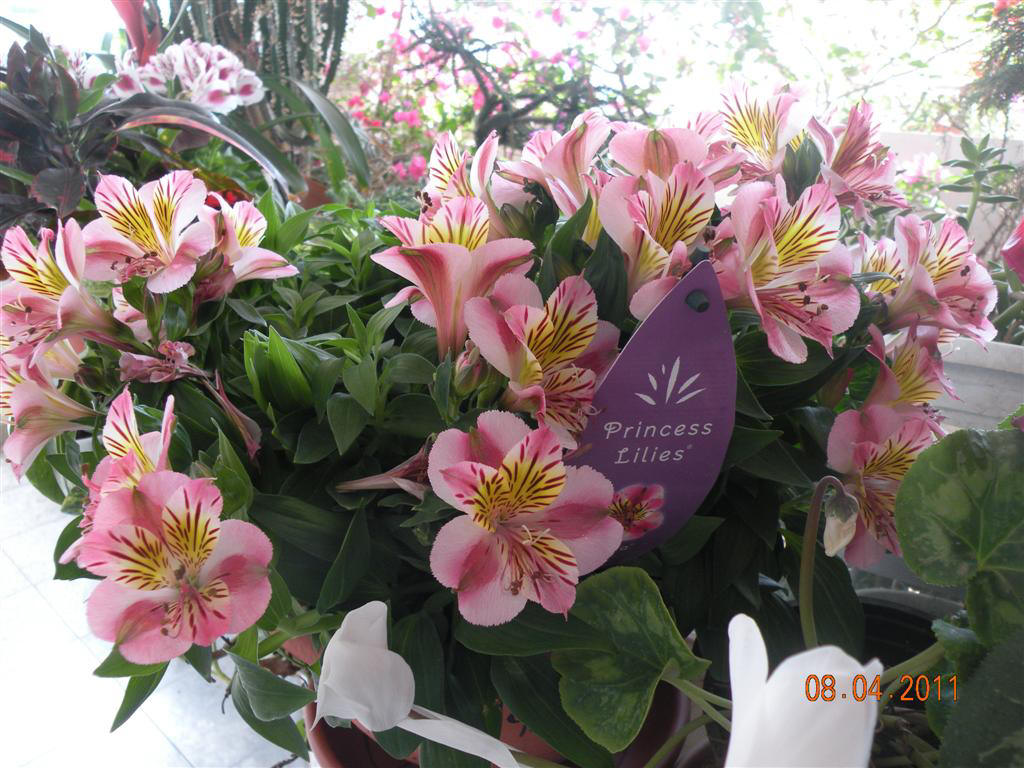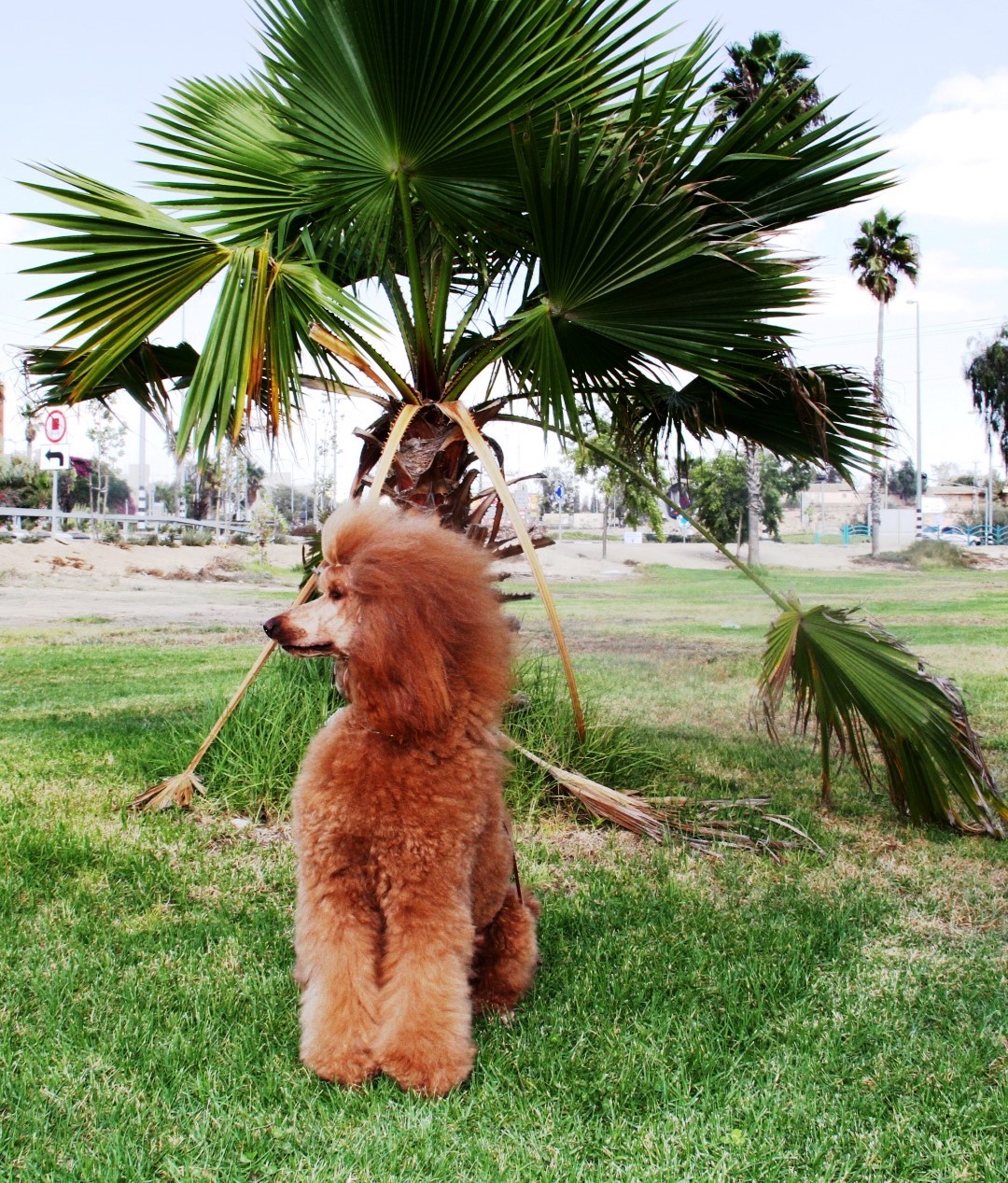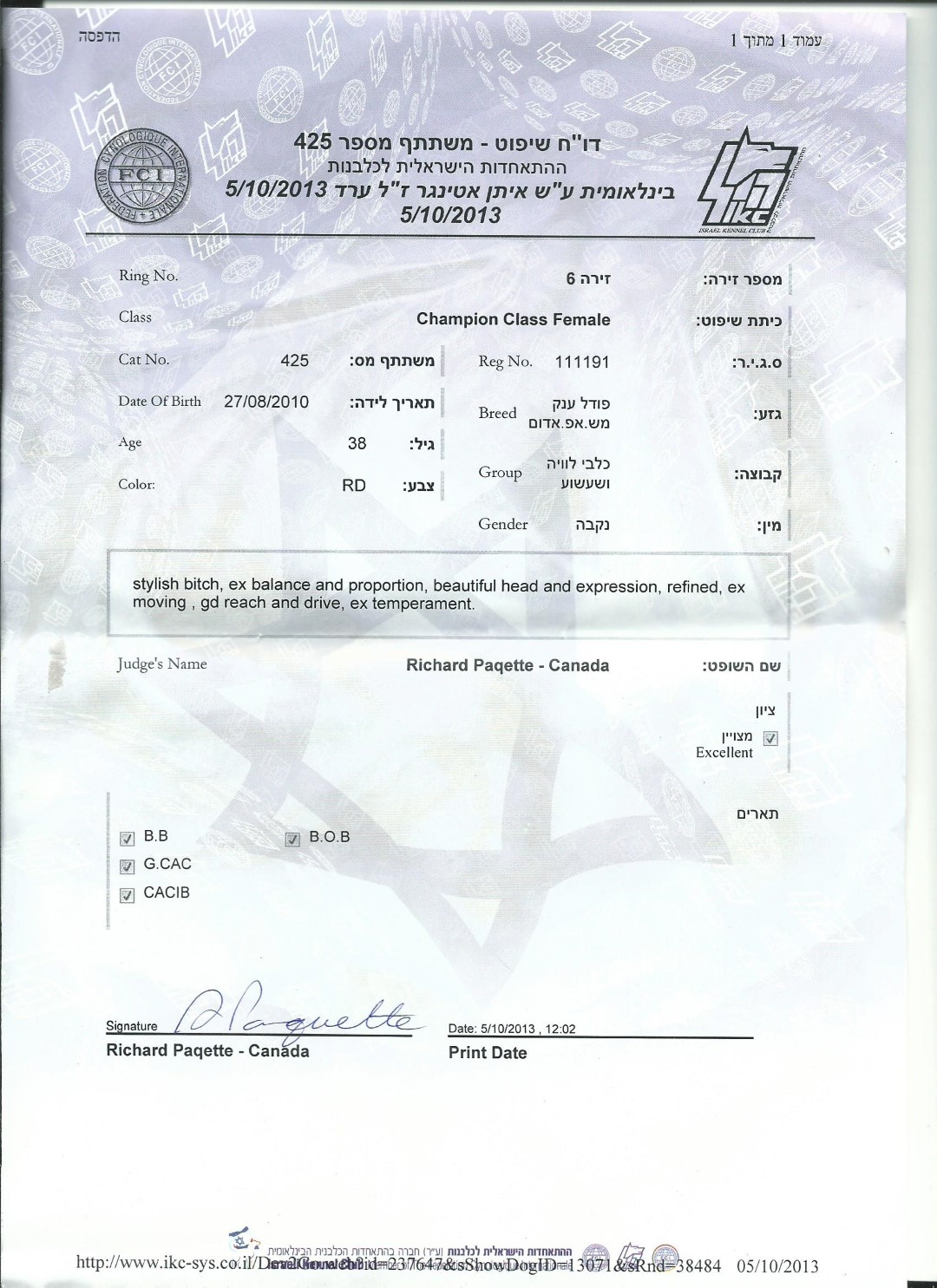 Alyssa continues the tradition and finishes International Championship at the International show in Arad on 5th October 2013.
&quotStylish bitch, excellent balance and proportion, beautiful head and expression, refined, excellently moving, good reach and drive, excellent temperament" wrote the judge Mr. Richard Paquette (Canada)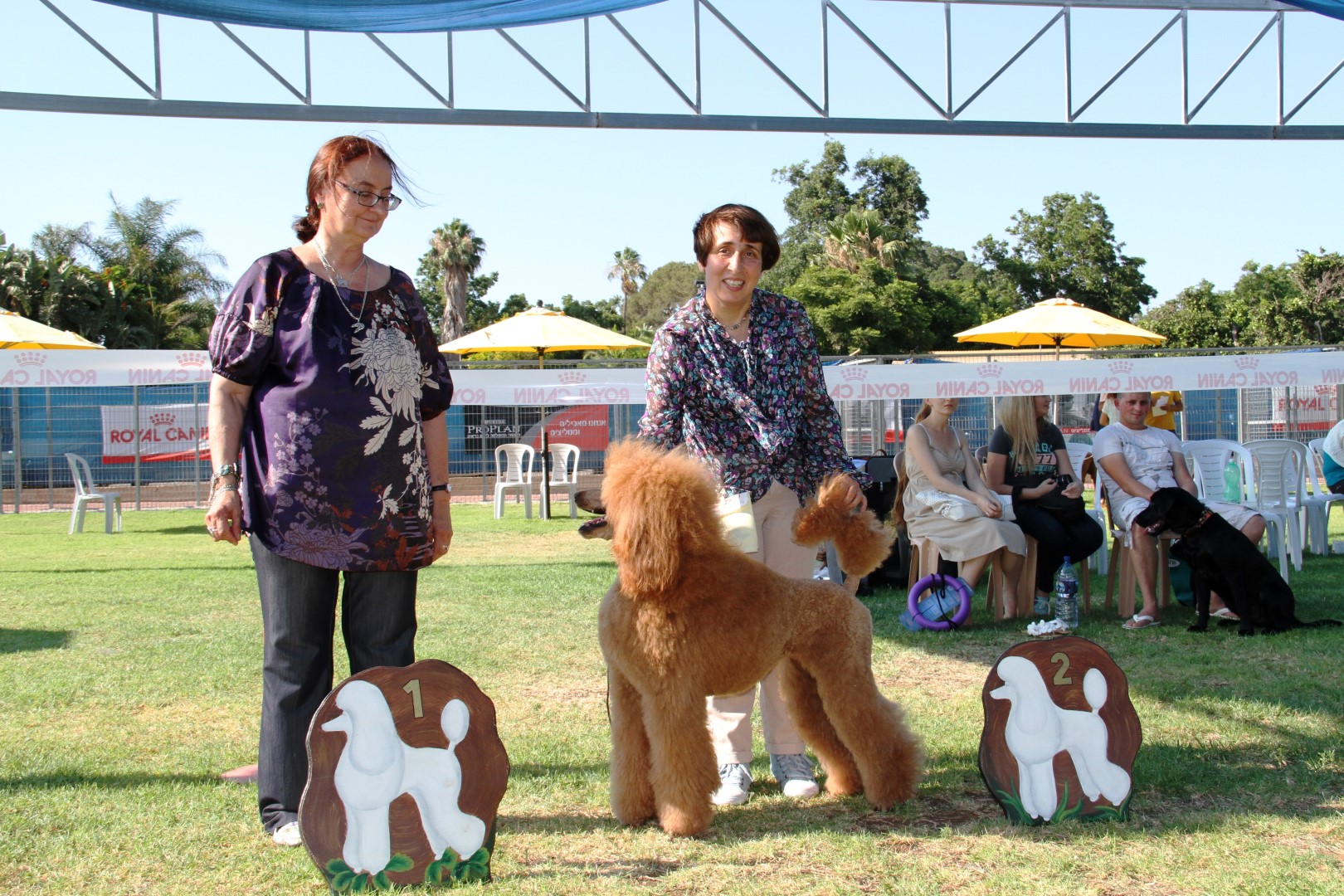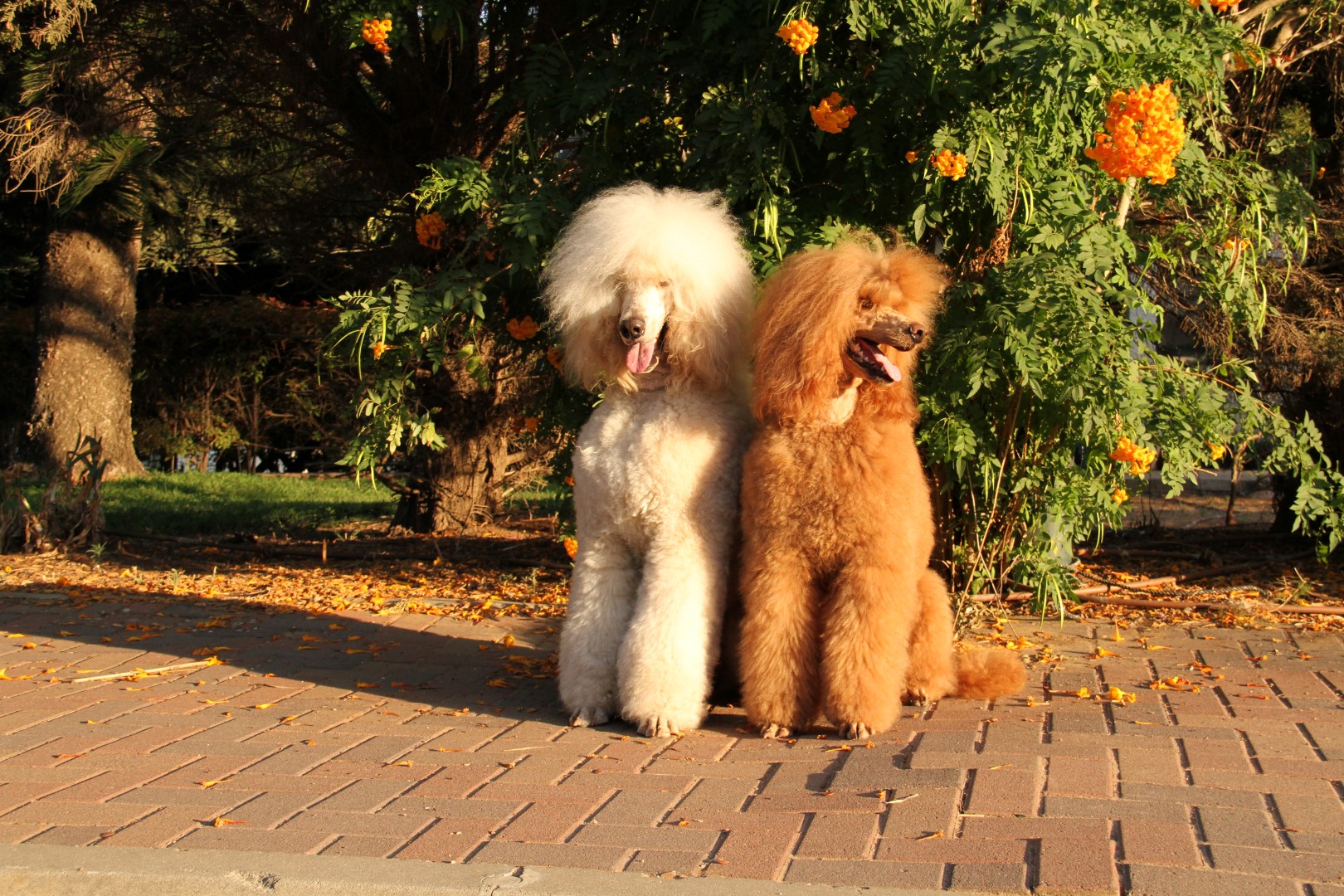 Alyssa at the Poodle Specialty 22.06.13 judged by Mrs. Marina Ostrovskaya (Russia) getting Excellent, BOS, GCAC"
"Very elegant, feminine, excellent format, bone, excellent expression, excellent neck and body, very good angulations, excellent coat, excellent movement, excellent presentation " wrote Mrs. Marina Ostrovskaya in the report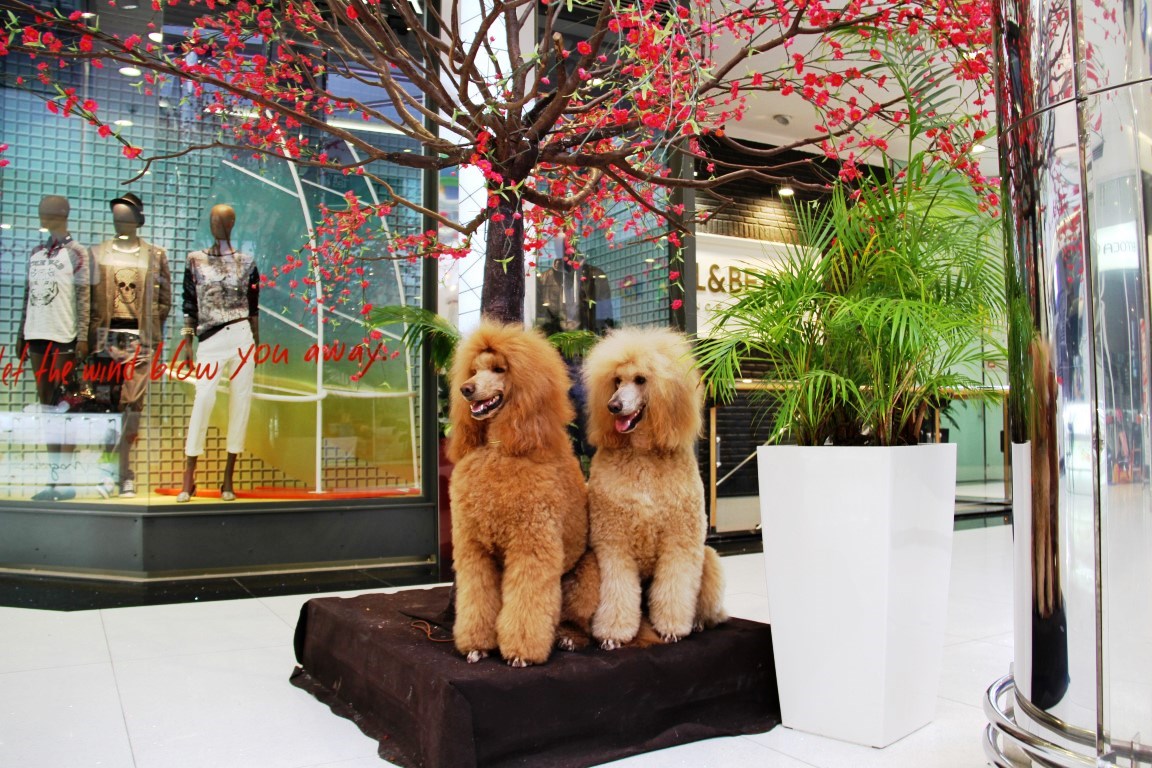 Alyssa (on the left) at the Poodle Specialty 20.04.13 judged by Mr. Jean Francois Vanaken (Belgium) getting Excellent, ResGCAC"
"Harmonious nice in all details. Lovely head, typical expression,very nice front, nice carriage " wrote Mr. Vanaken in the report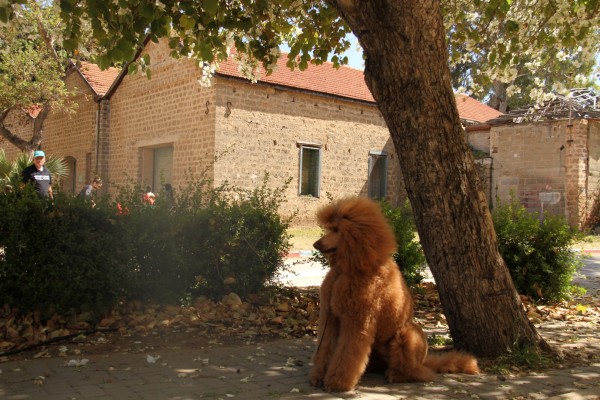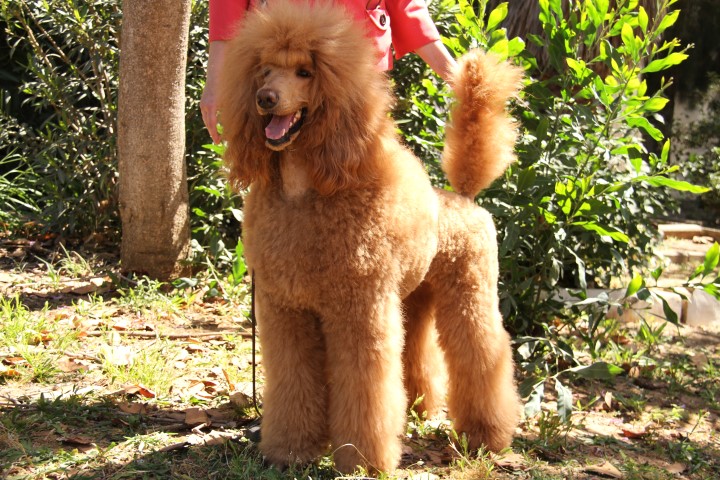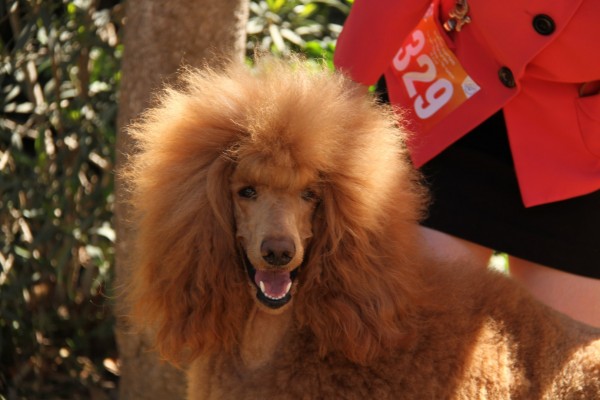 Alyssa at the International show 28.03.13 judged by Mr. Jo Sheppers (Holland) getting Excellent, GCAC, CACIB, BOB and winning the title "Tel-Aviv Winner"
"Lovely bitch. Very good type. Very good proportions. Very feminine face. Dark eyes with a pleasant expression. Long low set ears. Strong white teeth. Good topline and tail. Good forechest and ribs. Lovely coat and even color. Good movement. Lovely temperament. " wrote Mr. Jo Schepers in the report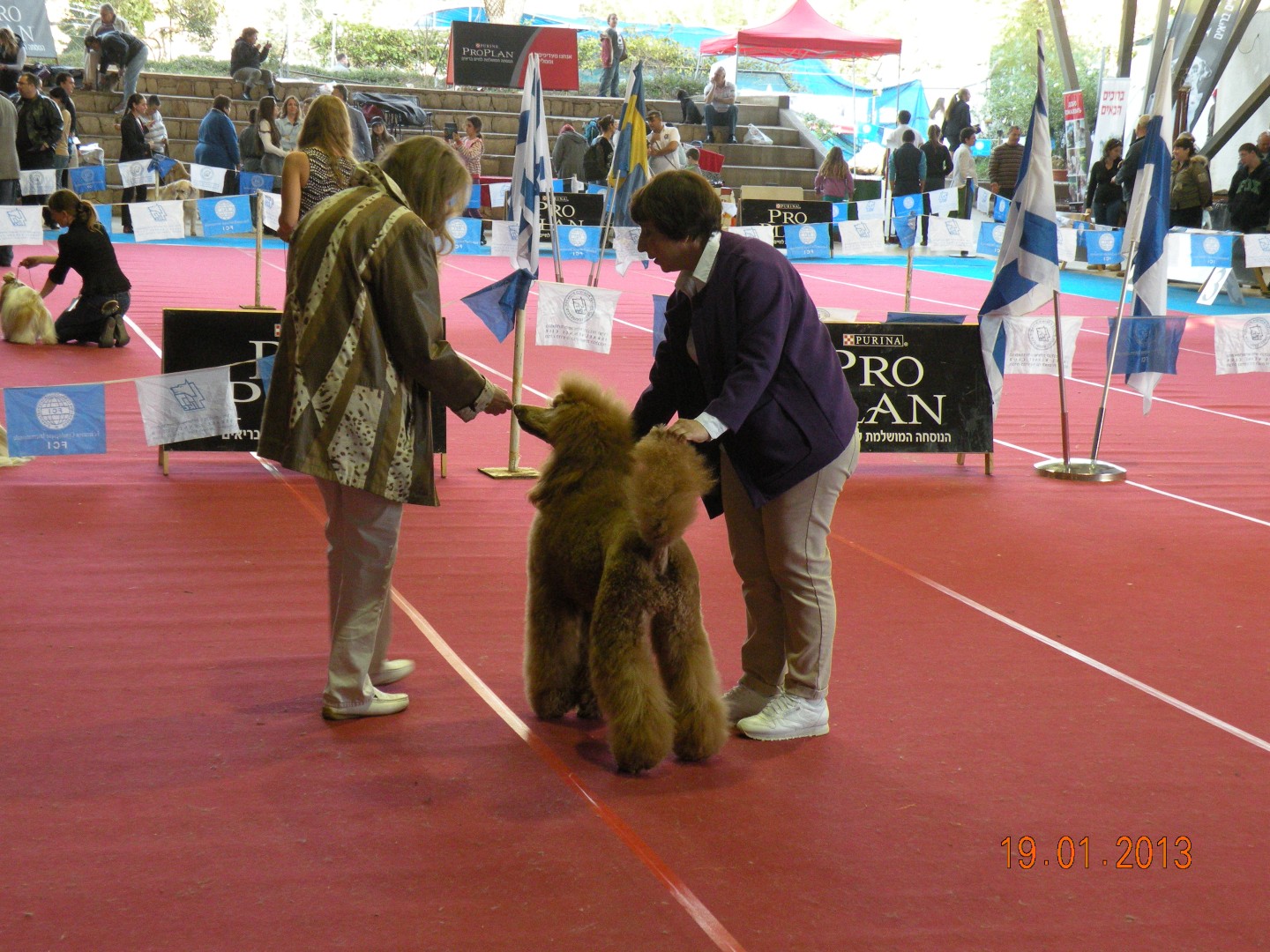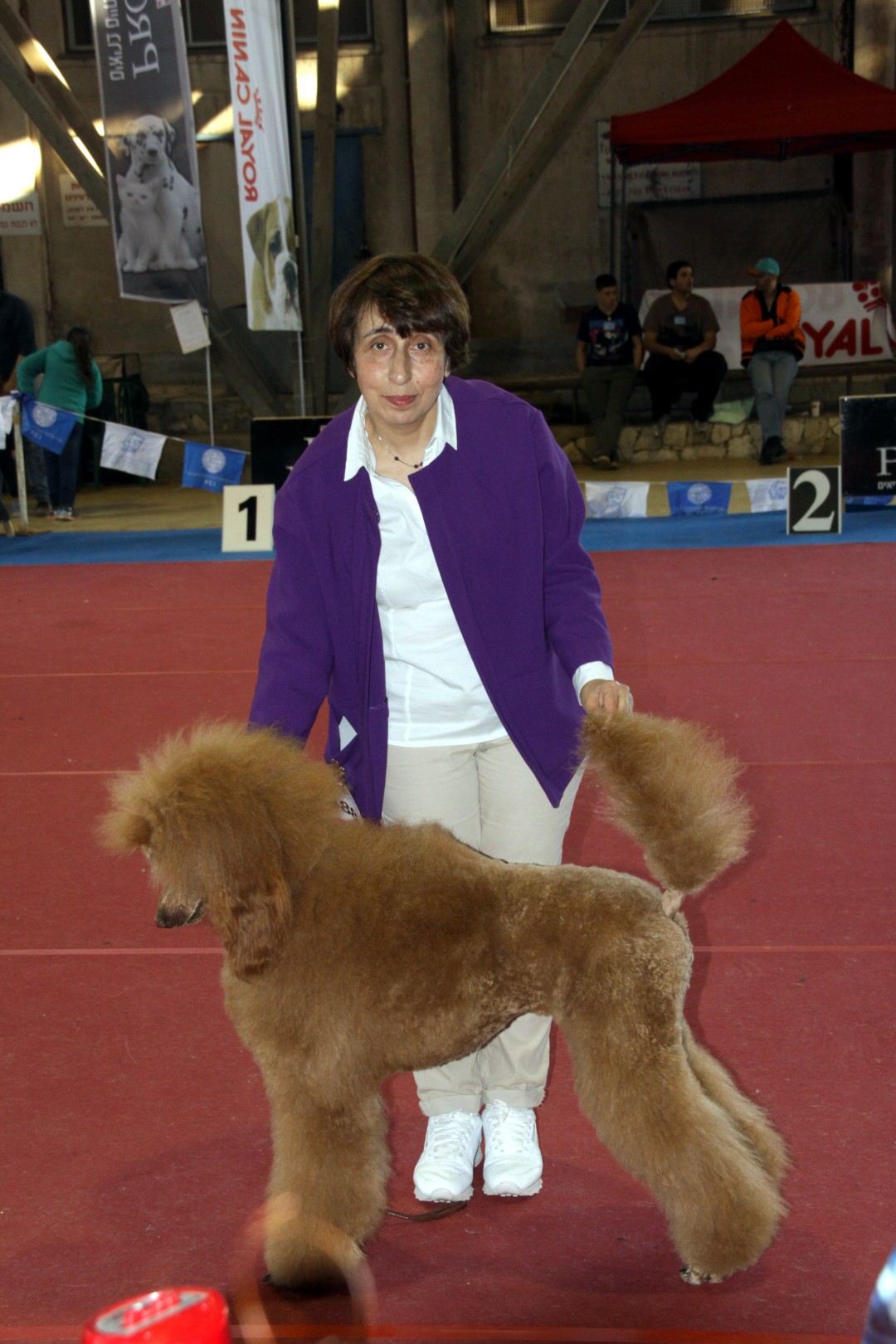 Alyssa at the International show 19.01.13 judged by Mrs.Leni Finne (Finland) getting Excellent, GCAC, CACIB, BOB
Alyssa at the show 15.12.12 judged by Mr.Henrik Hannelius (Finland) getting Excellent, CW, GCAC
"Excellent type, stylish color, with lovely proportions and outline. Long lean head, good body and angles. Well carried tail, moves well, nice temperament. " wrote Mr. Henrik Hannelius in the report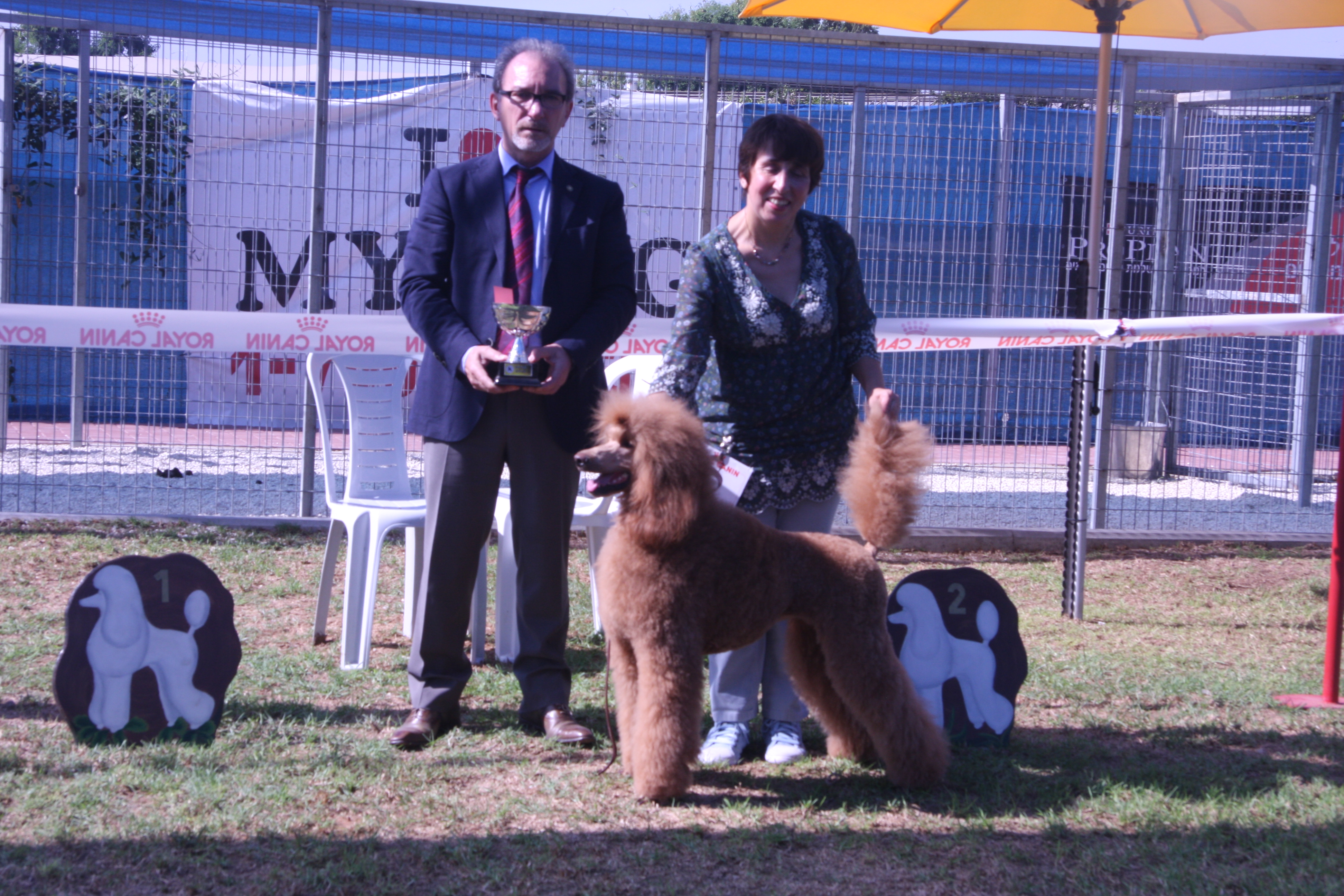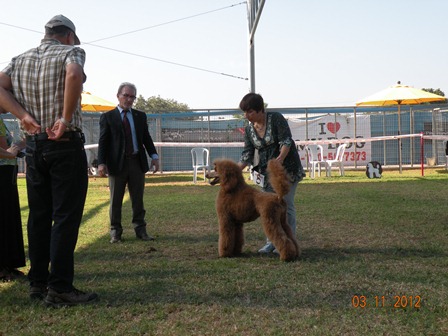 Alyssa representing our family at the show 03.11.12 judged by Mr.Bruno Nodalli (Italy) getting Excellent, GCAC, BOB
"Excellent construction, good proportion, excellent head, nice expression, typical excellent occiput and chin, excellent chiseling, excellent stop, very nice ears, excellent neck in standing and movement, good croup and angulation behind, excellent strong topline, good tail, excellent coat texture, excellent color for the age, excellent grooming, excellent movement, elegant and typical, very nice. " wrote Mr. Bruno Nodalli in the report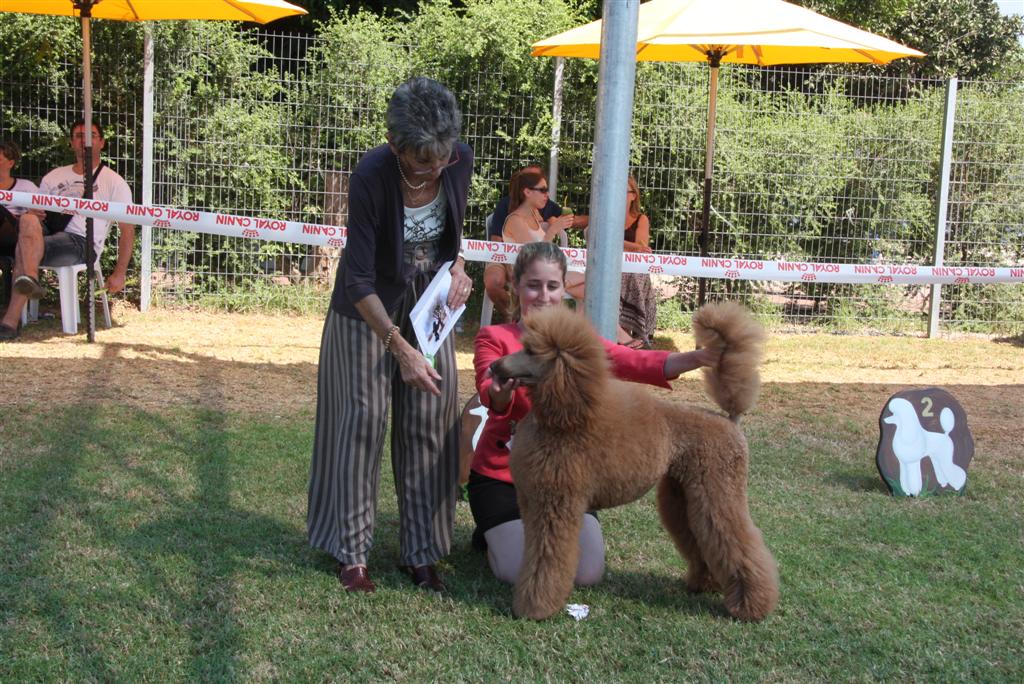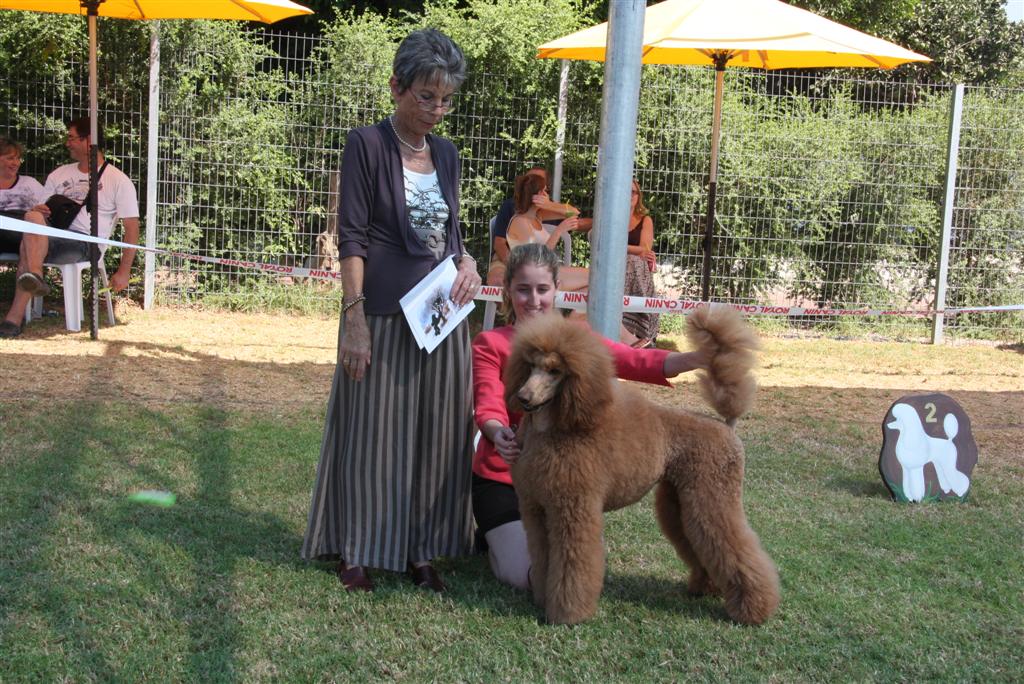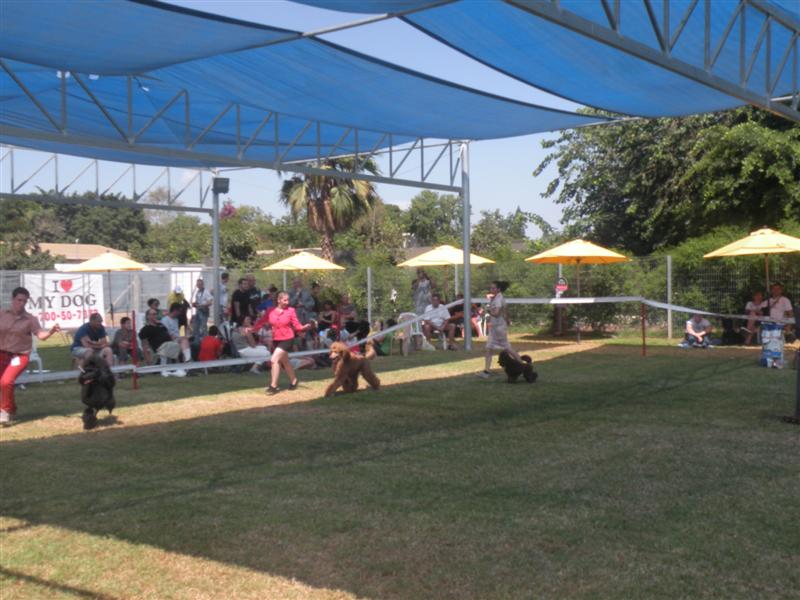 Alyssa completing Israel Grand Championship at the show 08.09.12 judged by Mrs. Lisbeth Mach (Switzerland) getting Excellent, GCAC, BOB
"Beautiful bitch, correct size, good color and quality, balanced, elegant outline, good rib cage and neck. Classic head, excellent pigmentation. Full byte, expressive dark eyes. Nice mover with good style. " wrote Mrs. Lisbeth Mach in the report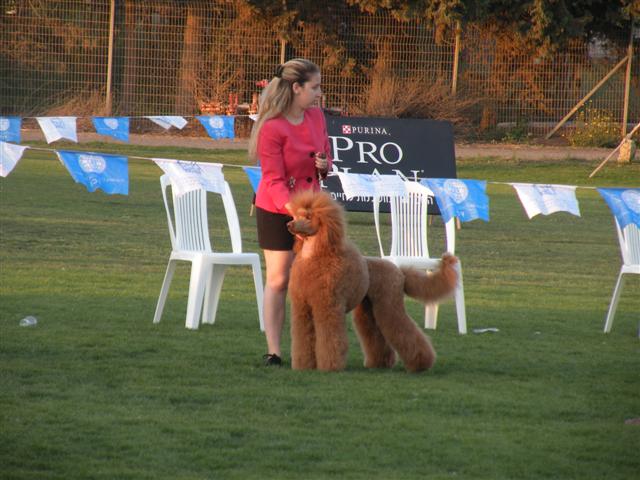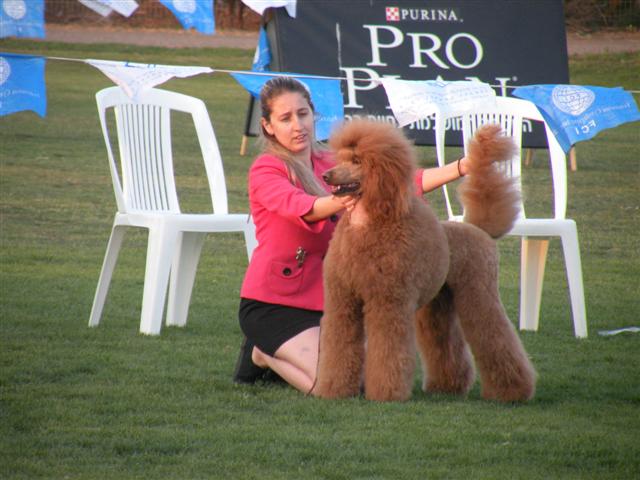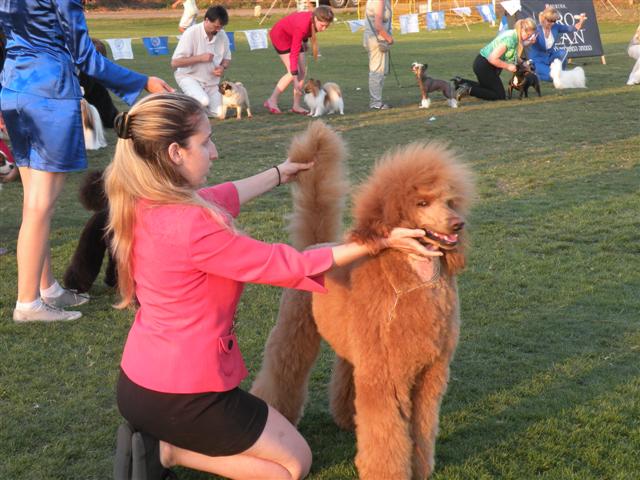 Alyssa winning Exellent, GCAC, CACIB, BOB at the International show 05.5.12 judged by Mrs. Janiki Steinbock (Israel)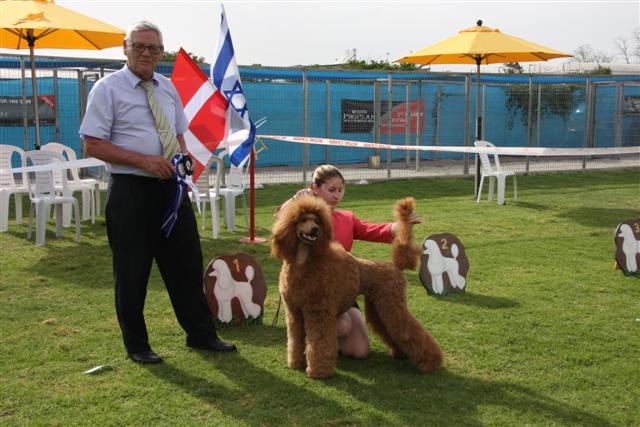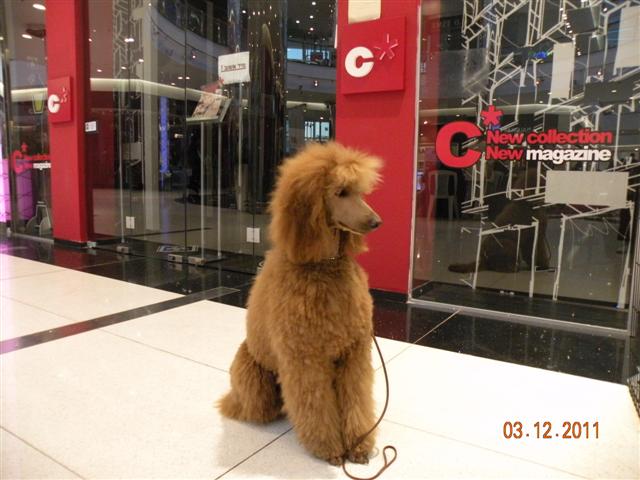 On the way to the Championship ... Alyssa completing Israel Championship at the show 14.04.12 judged by Mr. Ole Staunskjaer (Denmark) winning Excellent, CAC, BOB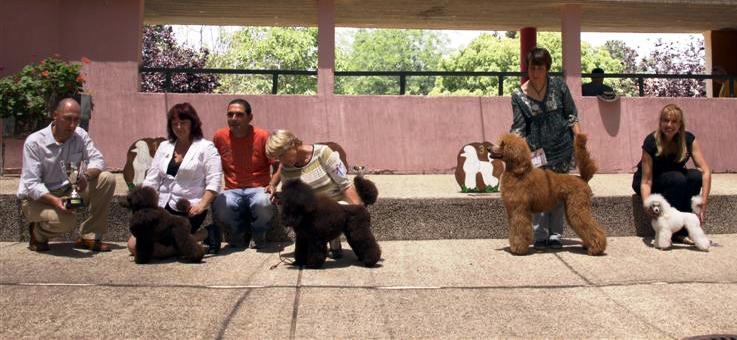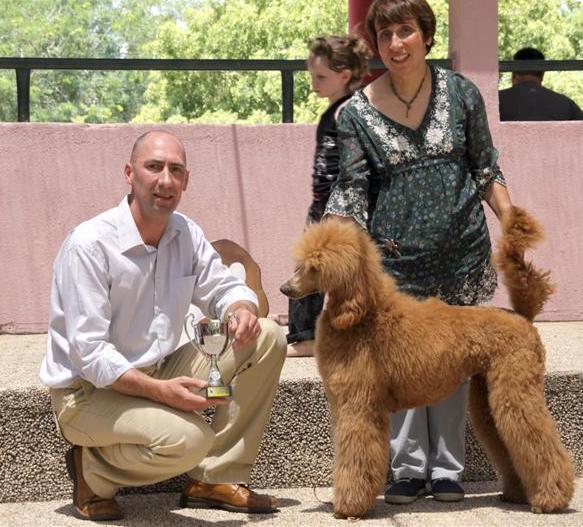 Alyssa 9 months old winning the title "Best Junior in Breed", BOB, BIS-3 at the Poodle Specialty on 4.06.2011 judged by Dirk Spruyt (Belgium)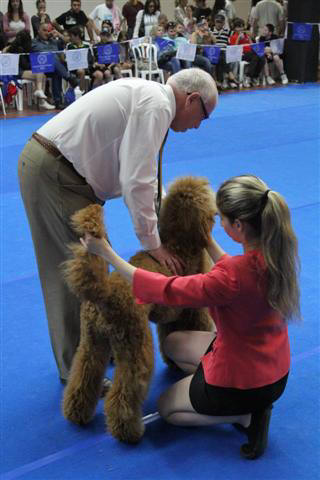 Alyssa winning the Class of Puppy females and getting Very Promising mark at the Mediterranean Winner Show 7.05.2011 judged by Andrew Brace (UK)
"Very well balanced, excellent construction, quality head, rich color, correct angulations, very stylish mover and so sound for her age. Very Promising" wrote Mr. Andrew Brace in the report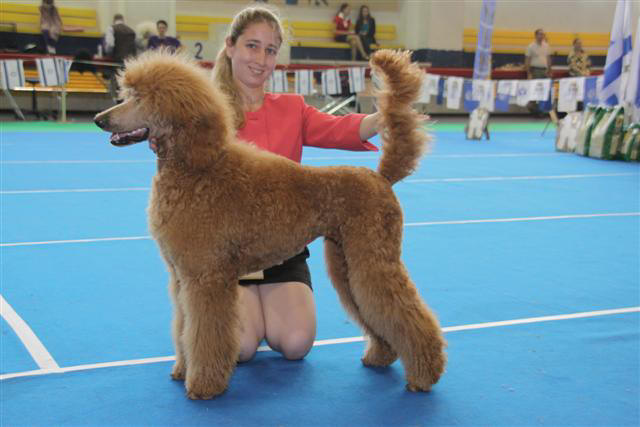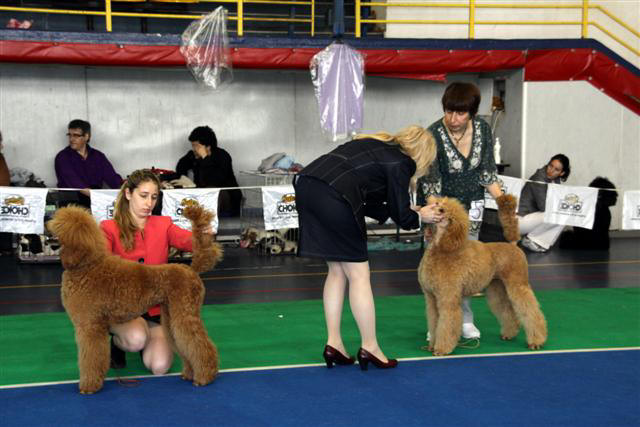 Specialty Show on 2-Apr-2011 judged by Tiina Taulos (Finland), Alyssa got "Very Promising" mark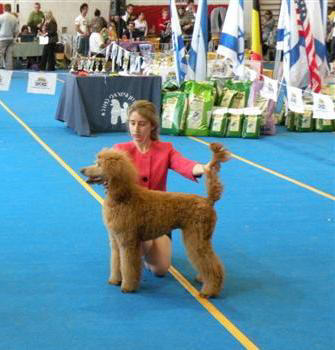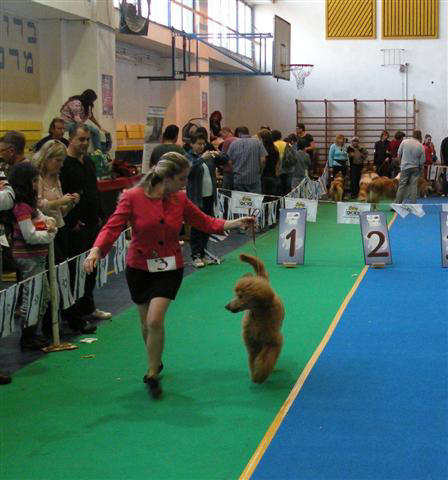 First show at 5.5 months old, judge Fabian Arienti (USA). Alyssa won Class Winner and got Very Promising mark.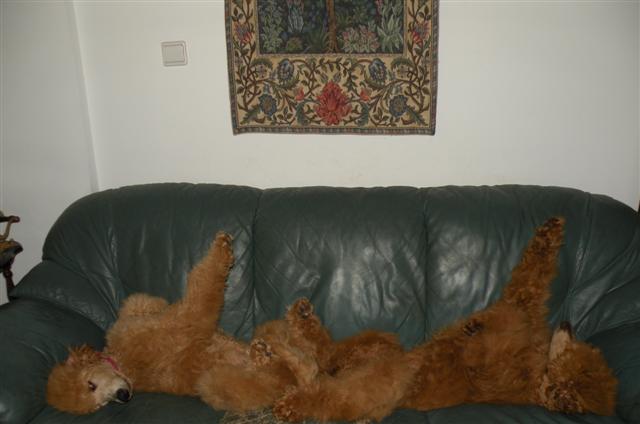 Alyssa and Alya 5 months old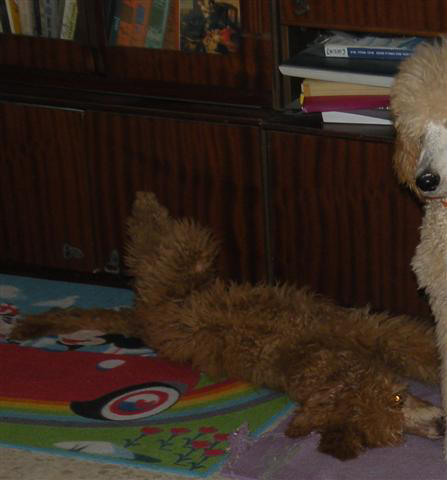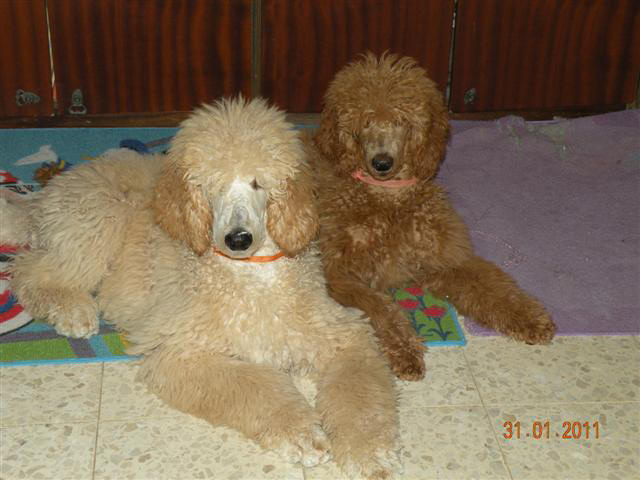 Alyssa playing with Champ 5 months old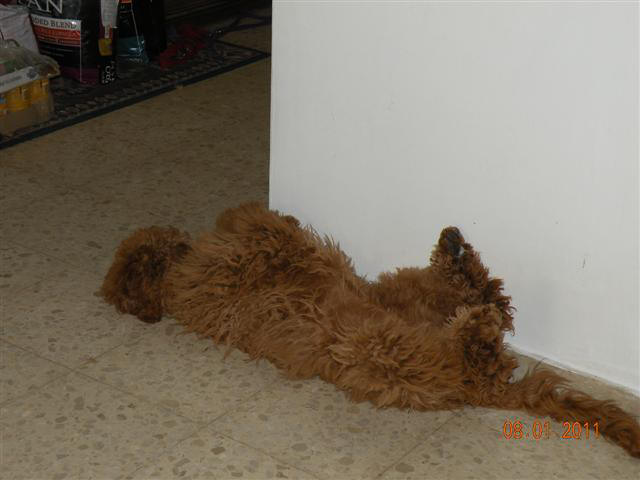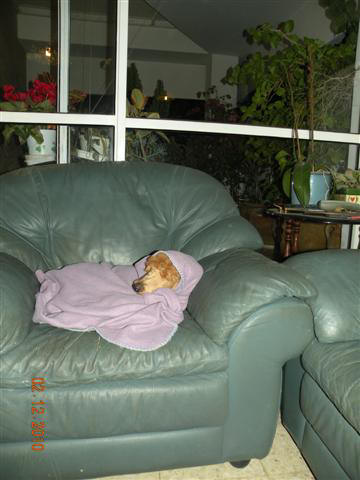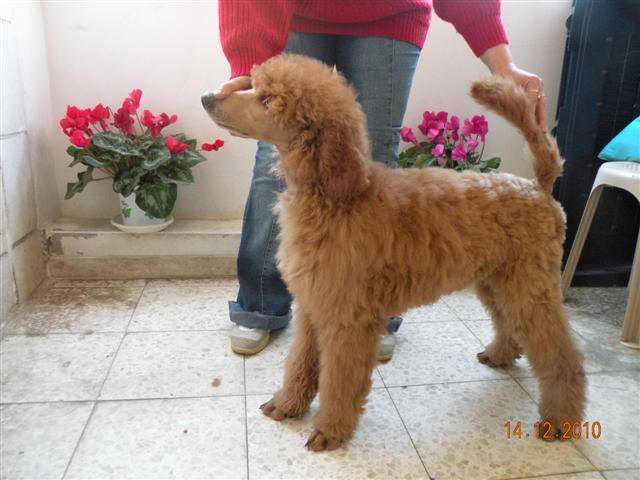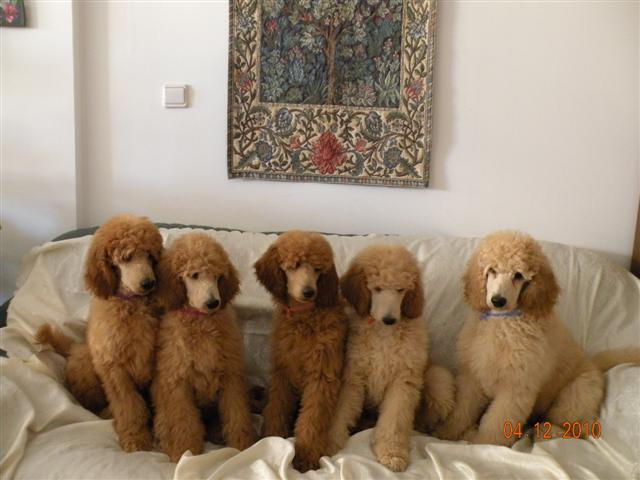 Alyssa 3.5 months, in the group picture Alyssa is in the middle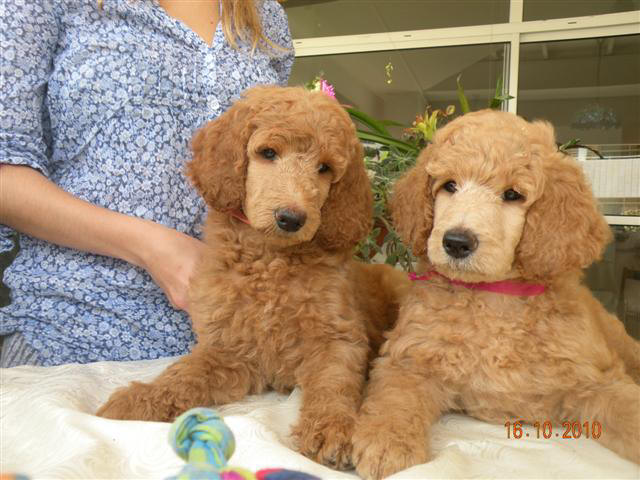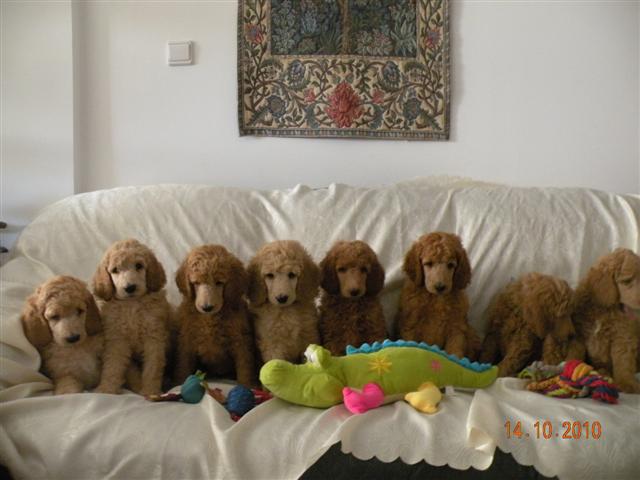 Two sisters Alyssa (on the left) and Alya 2.5 months, in the group picture - Alyssa is in the middle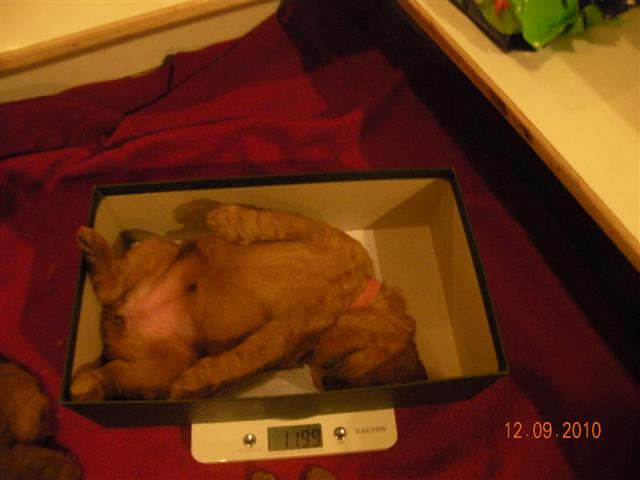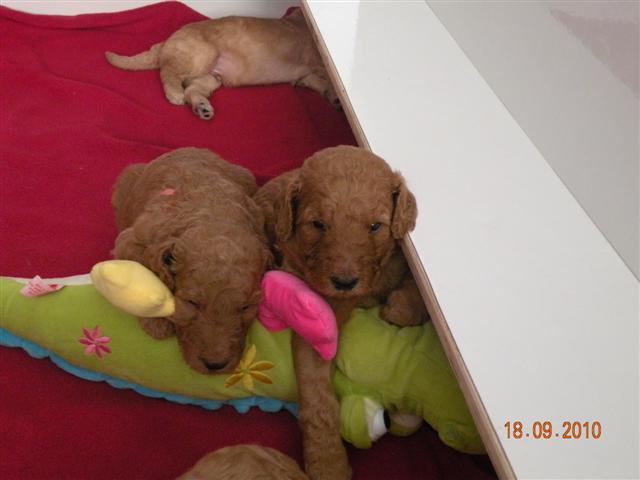 Alyssa (on the left) with her brother Ginger Bambi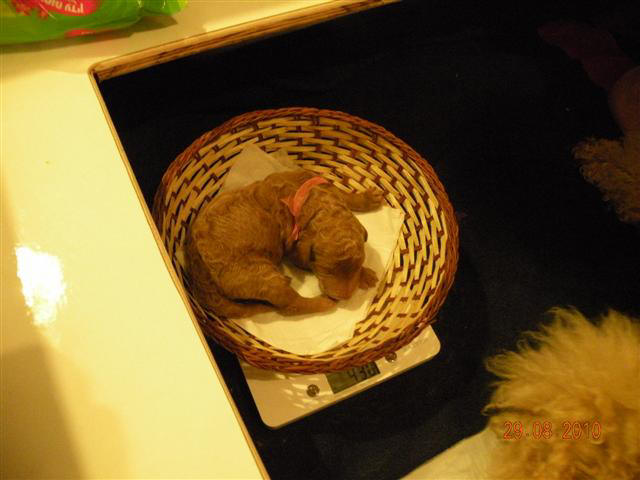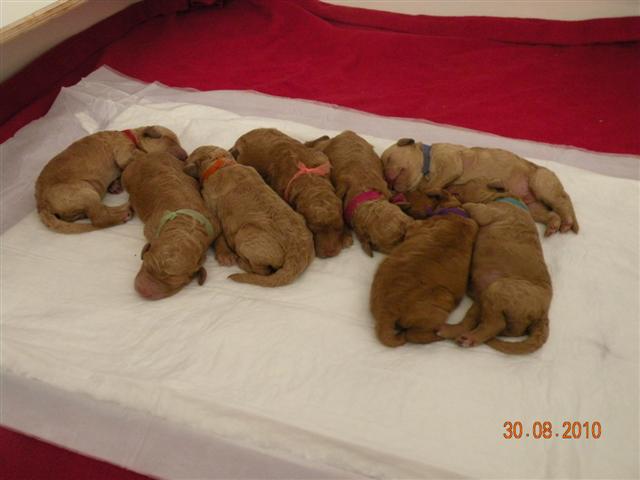 Alyssa (apricot band) just 3 days old